Grant
The committee has been able to raise over $240,000 to assist women support services in the Illawarra.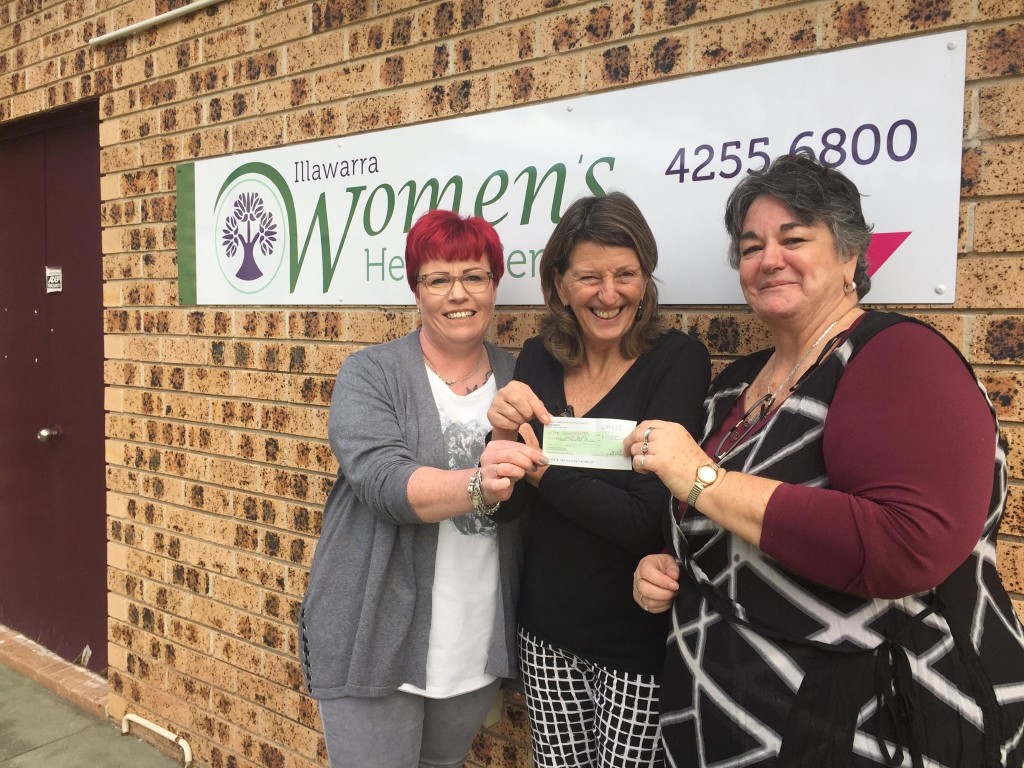 In 2017 funding went to The Illawarra Women's Health Centre, a community-based feminist health care centre for women only. IWHC was established 30 years ago and has been providing a safe place for women to access specialised women's medical and health care services.  IWHC target marginalised and vulnerable women: from diverse backgrounds in all age groups from 12-85+ including Aboriginal women and women with disabilities. They assist many women fleeing violence who need ongoing support to begin a new safe life.
In 2017 a pilot program for women with intellectual disabilities who have experience of domestic violence was launched. This program was developed after a year of research working with the target group to identify barriers and challenges to understanding violence, and accessing support to escape and recover from it.
In 2016 funds raised went to two well deserving organisations in the Illawarra; The Salvation Army's Carinya Cottage & Transitional Supported Housing and Relationships Australia. The main funding recipient was Carinya Cottage & Transitional Supported Housing, a crisis refuge and transitional accommodation service, providing a safe living environment with case management support for women and children. IWD funding will be dedicated to assist the women and children toward a more positive future, enabling Carinya to establish a 'brokerage fund' to help in various ways such as: ensuring school age children have school uniforms, shoes and stationery for their current/new school, mums will attend learning circles to broaden their understanding of the value of healthy eating and household budgeting, the importance of tenancy management (keeping rent payments up-to-date, rights and responsibilities as a 'good' tenant).
In 2016 and 2015 IWD Illawarra supported Relationships Australia to enable them to hold their annual camp and support program for vulnerable young Illawarra women to assist in addressing a

range of topics including self-esteem and body issues. The project addresses issues related to relationship health, physical and mental health and wellbeing, and developing confidence as well as assisting the young women to understand healthy body image and its relationship to media hype. It will also include techniques to become cyber savvy, manage stress and maintain a healthy mind and body.
In 2013, funds raised at the luncheon helped support the Illawarra Women's Health Centre, who coordinated the 'Empowering Young Women of the Illawarra' project. This program gave Year 8 girls from high schools in the Illawarra the opportunity to attend an Enlighten Education Girl Essential workshop. The Workshop offered three different messages; Love the Skin You're In, Stop It, I don't Like It and Forever Friends. These workshops helped girls decode the messages they are exposed to, and inspired them to follow their own path to success and fulfilment and to develop self-esteem and confidence.
In 2012 and 2011, the committee raised much needed funds and support for an organisation assisting women in need in the Illawarra, the Older Women's Network (OWN). This organisation offers wellness programs that are designed to assist older women to stay well by providing physical activities as well as community education and training on issues of isolation, depression, grief, injury prevention and management of chronic medical conditions. Participants achieve good levels of fitness while developing social networks and increasing confidence and self-esteem.
In 2010 the luncheon was a fundraising event for Wollongong Women's Refuge raising $15,000 to help deliver services not previously available at the Refuge such as the funding of a mental health worker and developing particular mental health programs.
The luncheons held from 2007-2009 were fundraising events for Carinya Cottage, a program run by The Salvation Army to provide assistance to women and women with children experiencing domestic violence, homelessness or some other personal crisis. Over this time, the committee has been able to raise up to $40,000 for Carinya Cottage.
For further information on the 2018 IWD Illawarra Grant please visit our Grant Application Page